Blink IT Care offers flexible Managed Services options to ensure customers operations perform optimally. Providing a variety of predictive monitoring and management offerings, organizations can reduce risk and ensure users have uninterrupted access to the applications and data they need to drive business. Benefit from our experience and knowledge base – and the security of having fixed monthly IT costs.
BLINK IT CARE BENEFITS
Low cost
On-demand solution
Quick and accurate large scale capabilities
Ease burden on IT staff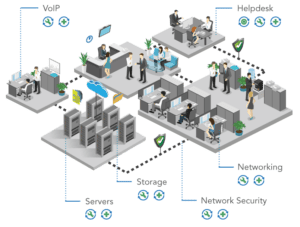 WATCH

   MANAGE

   MANAGE +

•

Monitoring


•

Reporting


•

Alerting

•

All Watch plus …


•

Intelligent Reporting


•

Limited Dashboards


•

Fixed Fee Support


•

Patching / OS Updates

•

All Manage plus …


•

Upgrades


•

Moves / Adds / Changes


• 

Full Service Desk


•

On-site Support Dedicated or On-demand
THREE MANAGED SERVICES LEVELS
Our Watch Services provides our customers with professional and immediate support without the costly overhead. Our help desk is fully-staffed who are available via phone, email, web chat, or our secure web portal. We understand the importance of your organization having immediate access to technical support. Our live online support technology and certified technicians are able to see exactly what is happening on a user's computer screen and even take control of the computer when simple instructions are not sufficient enough to troubleshoot the problem. The Help Desk consultants can resolve most desktop PC problems as if they were standing right beside you. All that is required is a phone and Internet connection.
Bundled with our Watch service is the proactive monitoring of your mission-critical infrastructure. Be apprised of alarms and warnings before it can escalate into a more detrimental condition. Avoid profit-killing problems such as poor site performance or outages. Liberate your time by being up and running. Spend time on things that really matter. Grow your business instead of simply managing it. Stay on top of server outages and performance issues using Site24x7 server monitoring tool. Get in-depth visibility into key performance indicators of servers and network devices in your branches and data center.
Blink IT Managed Services provides ongoing collaboration with customers' resources to assist in troubleshoot and resolving issues within customer IT environment per contracted services and devices, perform corrective and predictive actions to minimize business impact and ensure business continuity, and maintain infrastructure health and stability. Extensive systems management and server monitoring software for server performance monitoring, diagnostics, and tools, regardless of manufacturer and operating system. The service is comprised of Blink IT monitoring and patch management of a customer's physical or virtual server systems. As part of the Managed level of service, Blink IT will monitor operating system level services as well as key physical elements, which include but are not limited to hard drive, CPU and memory usage. Events captured in this monitoring service will be handled and escalated to customer based on escalation procedures. Also included in this level is patch management. Server devices covered under this service will be added to the monthly patch schedule per the current Blink IT Patch Policy. Services included within this offering apply to a single physical or virtual server instance.
Blink IT Managed Plus services is committed to monitor, assist and proactively manage the IT environment per contracted services and devices, perform troubleshooting, support, and preventive maintenance to vital infrastructure systems, incident escalation, deploy patch management, optimize systems and applications performance, engage selected 3rd party vendors on behalf of customer, and manage ongoing IT cost, roadmap and staffing. Blink IT CARE provides 24×7 network monitoring by analyzing device availability and performance with real-time views and topology maps. From the device health, utilization, interface and the telecommunications the flows throughout the network. The service provides the tools and basic services required to manage and monitor a network switch. Advanced version of this service includes monitoring and event management, switch software patching, and remediation of incidents and underlying problems with the device. Blink IT will maintain a configuration of the device, and also apply patches (i.e. IOS updates for Cisco devices) at a regular interval. Blink IT will not apply every minor patch to the network switch but will apply patches and updated software every 6 months or sooner in the event of a bug or critical security risk.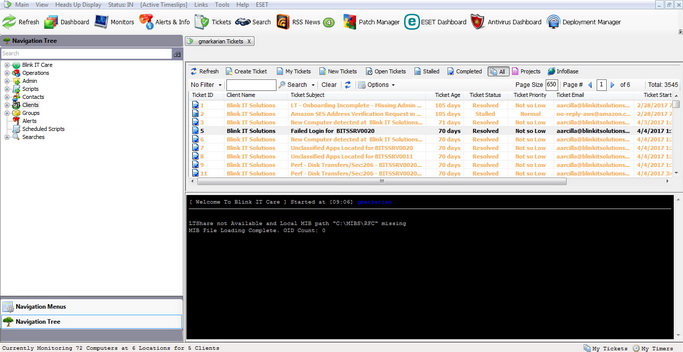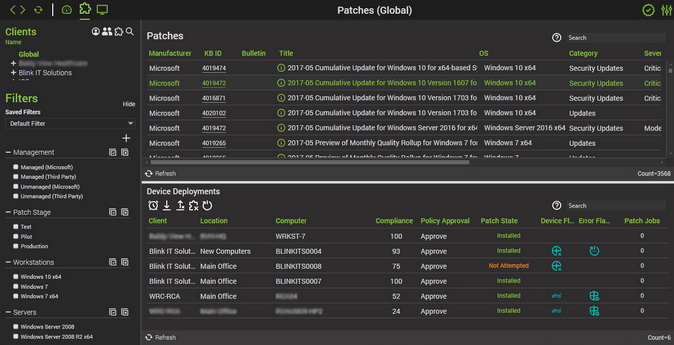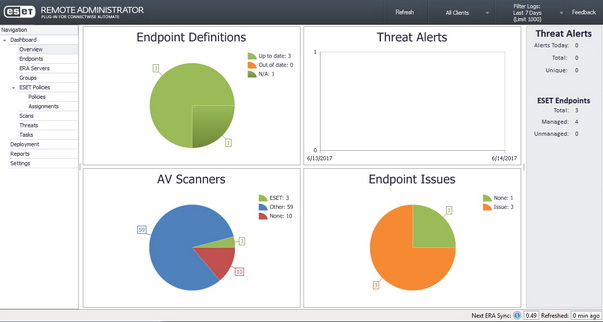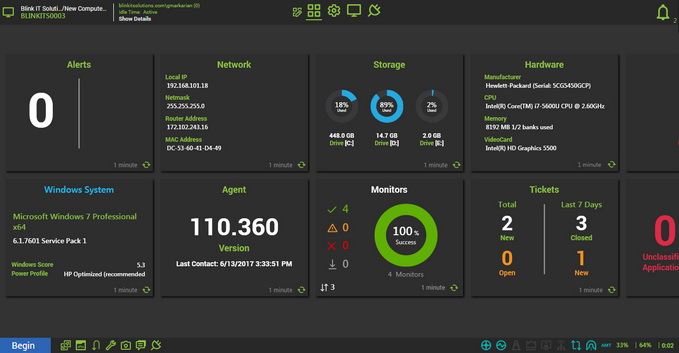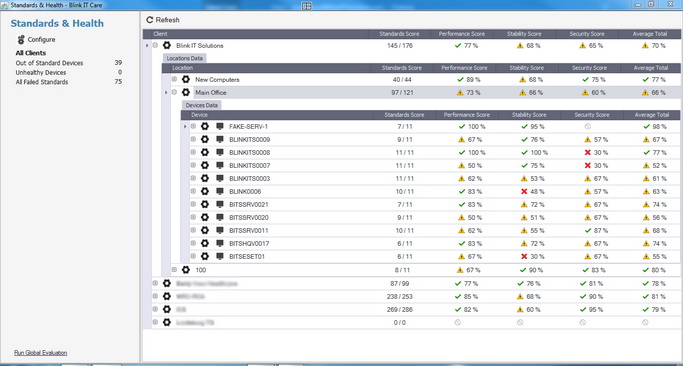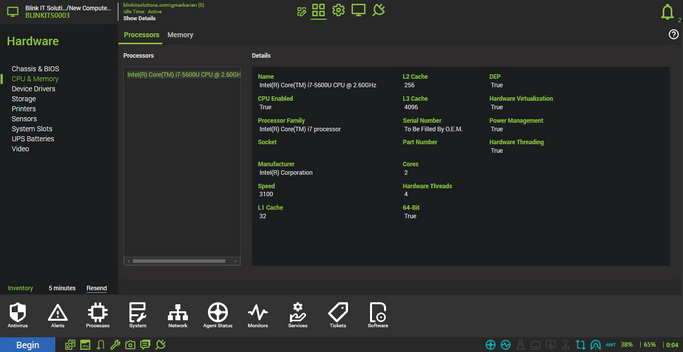 ACTIVE 24/7 DEVICE MONITORING
Our monitoring systems and tools allow us to get an expansive view into the health of our customer's infrastructure. We monitor a specific number of parameters related to the health of our services as well as the different services that reside on them for SMNP/WMI/ PowerShell enabled devices and services.
PROACTIVE ALERT AND NOTIFICATION
Our monitoring systems and tools will proactively monitor devices and as thresholds or worse case scenarios become present, our managed services teams will be aware and notify you as quick as possible of the situation.
WEB ACCESS PORTAL
Provide Customer with a read-only access to a comprehensive web portal that represents the customer's environment for proper visibility and information.
QUARTERLY REVIEW AND EXECUTIVE REPORTS
Blink IT provides a quarterly report on contracted services and entitled devices to review overall performance and health for the prior 3 months of service.
INCIDENT MANAGEMENT AND REMOTE REMEDIATION
Deliver a complete incident management and communication plan till resolution throughout the issue life cycle which include issue documentation, troubleshooting, escalation and resolution. Changes to customer's environment is governed by Change Management and Release Management processes. Provide Root Cause Analysis (RCA) for major incidents and events.
NETWORK CONFIGURATION BACKUPS
Blink IT will back-up configuration for entitled network devices.
MOVES, ADDS, CHANGES
Perform organizational level requests related to moves, adds, or changes within the Customer's existing environment where each request does not exceed 2 hours in labor.
ENTERPRISE ANTI-VIRUS MANAGEMENT CONSOLE (Customer Provided)
Blink IT will review and update Anti-Virus software and help with virus remediation through vendor support
3RD PARTY MANUFACTURER WARRANTY REPLACEMENT
Leveraging existing service contracts between the customer and associated vendors, Blink IT will engage those vendors on the customer's behalf to expedite replacement, coordinate shipment, restore configurations, escalate for support perform minor revision upgrade.
SOFTWARE LICENSE COMPLIANCE MANAGEMENT
Pending access to vendor licensing portal and proper authorization, Software and certificates management for server and cloud level license including OS, VMware, O365, Exchange and Anti-Virus to track, document and ensure compliance with the license policy.
PROBLEM MANAGEMENT AND ADVANCED CORRELATION
Evaluate repeated incidents and issues within a pre-determined time threshold and frequency which indicate an abnormal trend which could potentially result in a negative impact on business operations. Further investigations are required to identify the chronic issues pertaining to said problem, and possible options for remediation shall be provided for approvals and implementation.
OPERATING SYSTEM UPGRADES
Blink IT will perform a compatibility assessment to ensure inter-operability for upgrades recommended by manufacture for the following, excluding, but not limited to, UCS and data migration:
• Microsoft OS Service Pack
• VMWare DOT release
• Enterprise Storage DOT Release
• Linux Kernel
BLINK IT CARE SERVICE OFFERINGS
All Levels Include

WATCH

MANAGED

MANAGED +

Active 24/7 Device Monitoring
       

v

       

v

       

v

Proactive Alert and Notification
       

v

       

v

       

v

Web Accessible Portal
       

v

       

v

       

v

Quarterly Review and Executive Reports
       

v

       

v

       

v

Tracking
       

v

       

v

       

v

Helpdesk
Support for Windows based systems
       

v

       

v

       

v

Basic "how to" questions
       

v

       

v

       

v

Network/Internet connectivity issues
         •
       

v

       

v

Enterprise Anti-Virus Management Console
         •
       

v

       

v

Active Directory Users and Computer Objects
         •
       

v

       

v

Moves, Adds, Changes
         •
       

v

       

v

3rd Party Manufacturer Warranty Replacement
         •
       

v

       

v

License Compliance Management
         •
       

v

       

v

+Servers
Monitoring of Event Logs and OS
         •
       

v

       

v

Performance Threshold Notification
         •
       

v

       

v

Operating System Patch Management*
         •
       

v

       

v

Performance and Capacity Trending
         •
         •
       

v

Operating System Version Upgrades
         •
         •
       

v

Problem Management Advanced Correlation
         •
         •
       

v

Provisioning and Administration
         •
         •
       

v

Vendor Engagements
         •
         •
       

v

+Networking
Service Provider Coordination
         •
       

v

       

v

Wireless Administration
         •
       

v

       

v

Network Configuration Backups
         •
         •
       

v

3rd Party Manufacturer Warranty Replacement
         •
         •
       

v

Vendor Engagements
         •
         •
       

v

Network Security
Security Alerts and Notifications
         •
       

v

       

v

Policy Management
         •
         •
       

v

Problem Management Advanced Correlation
         •
         •
       

v

Vendor Engagements
         •
         •
       

v

Storage

Resource Alerts and Notifications
         •
       

v

       

v

Provisioning and Administration
         •
         •
       

v

Vendor Engagements
         •
         •
       

v

VoIP

Service Alerts and Notifications
         •
       

v

       

v

VoIP Provisioning
         •
       

v

       

v

Voice Gateway & Call Manager Backup
         •
         •
       

v

Vendor Engagements
         •
         •
       

v
Ready to talk?
At Blink IT Solutions, we welcome the opportunity to serve business of all industries; whether Public Sector Education or Government to commercial or Healthcare, and everything in between, we have the solutions and Team that achieve desired results.